Director at Adroit Biomed Ltd.
When Rohit Raul approached me and explained BOC's concept of coming together and growing together, I was impressed. It was a noble idea and with Mr. Rajesh being a part of it, it was definitely a deadly combination.
Read More
The entire team was fascinating with interesting people. With innumerable experienced people, there has been a lot of experiential learning and experience sharing.
When you work on your business, you just understand one dimension of it. But when you are a part of a group of different industry experts, they add to your learning with their expertise.
It brought about a mindset shift in me. Once you are able to tune your mind for the big growth story that you wish to build up in your business, a whole lot of change happens.
My experience was enriched as I learned multiple facets of the business. I found a tribe I could confide in. Apart from the learning, there were dinners and visits to each other's homes, which got everyone closer.
I think the platform is just right with Mr. Rajesh as a mentor who is always there to motivate you and guide you. I always recommend BOC to entrepreneurs as it is a gateway to learning and a community you belong to.
Initially, the reason behind joining BOC was the presence of Mr. Agnelrajesh. Later, the benefits of being a part of this group became obvious to me.
Read More
BOC is a fantastic bouncing board and an excellent learning platform. Each BOC meeting is filled with new learning, and it can be attributed to a mental exercise.
BOC charges me up with immense positivity and energy to work towards taking my business to the next level. Over the years, it has been providing the right thrust in motivating me to become a better version of myself as an entrepreneur.
Before joining BOC, I was going with the flow of my business. But after joining BOC I have started working on my business with focus, which has helped in expanding at a better speed.
Founder & CEO at PDA Architects Pvt. Ltd.
The ever energetic and resourceful, Mr. Agnelorajesh Athaide is the reason that I joined BOC. BOC is maturing to be an ideal bouncing board and a perfect guide to all its members. It has
made me think qualitatively and out of the box!
Read More
BOC is a platform to meet established people from all walks of life. It provides a safe environment to seek appropriate solutions to any issues in your profession and business, with honour and dignity.
I would also like to specially mention the following personalities for their untiring and unequivocal contribution to the growth of BOC – Rohit Raul, Vinit Bansode, Rajesh Doshi, Sushant Raorane, Vivek Mendonca, Nagu, and Geetha.
I recommend BOC to all entrepreneurs to experience the pleasure and happiness of being together and growing together!!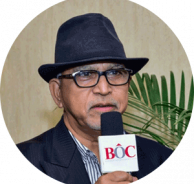 Managing Director at Diagold Creation Pvt. Ltd.
Being a part of BOC I found a platform where we get to meet and interact with people from diverse backgrounds. As businessmen and entrepreneurs, this is extremely important. It gives a different perspective and new dimension to your thinking and way of doing business.
Read More
I love the introduction and questions addressed every month at BOC. They make you reflect on the different roles we as individuals play in our daily lives.
The business presentations are learning lessons. We get to map them with our own business and compare whether our actions and decisions are getting us the desired results. All the sharing of ideas and discussions post the presentations give a deep insight into various strategic moves. There is a lot of cross learning that happens, which is beneficial to everyone's business.
BOC has played an important role in my life. It is a sounding board for new ideas that can get validated. Stuck with a problem you can always approach the members for help, who in some way contribute towards solving your problem.
In fact, when I launched a website about two years back, I made a presentation about the same at BOC. The kind of feedback I received helped me finally come up with a better version of the planned website.
In short BOC means, "Come experience the magic".
I encourage people to be a part of BOC as it is a platform where you can get charged to perform better. Like-minded people come together and grow together. Over time it becomes your extended family creating an invisible support system.